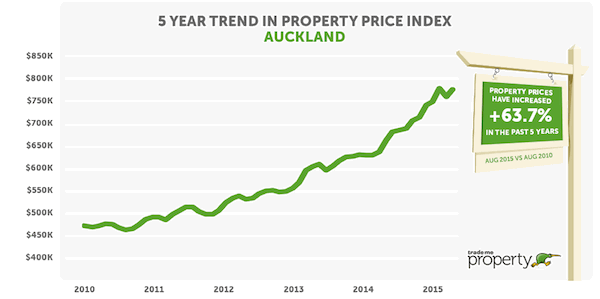 Auckland is New Zealand's economic hub and with our economy set to continue to grow over the next couple of years demand for housing in Auckland will remain high.
Property values in New Zealand have increased by more than 25 percent in 3 years and NZHerald also reports Auckland's the median house has risen by 46.5% however there are investors buying Auckland residential property for less than market value.
For some investors in the Auckland property market the highly profitable property deals are apparently still out there.  PropertyTutors mentoring clients have continued to buy residential property below market value in 2015.  This month alone Lauren a new investor under the guidance of mentor Sean Wood bought two properties in 24 hours for less than the market price who would have thought it possible?
Also with demand for property at an all time high, investors like James and Elliot are managing to sell their properties whilst they're still renovating them.  This lowers the investor's costs as there are no property marketing or listing fees.
Head of Trade Me Property Nigel Jeffries says the latest Property Price Index showed that while the average asking price in Auckland has risen by 20 per cent in the last year, small houses (1-2 bedrooms) had increased 24 per cent and apartments were up a "staggering" 49 per cent in a year.
Trade Me Sales Price Index
As long as our economy continues to grow, demand for Auckland housing in all its forms will be strong.
---
This blog article was written for PropertyBlogs by Mobilize Mail.